COMMUNITY IMPACT
Making a difference in our community isn't just something nice we can put on our webpage. It's at the core of why we do what we do and who we do it for. One of our favorite definitions of a Catalyst is a condition, event, or person that is the cause of an important change. Every month, we partner with a non-profit organization and help spread their message. We want people to know what these organizations are all about and how they are impacting the communities we live and work in, as well as the broader scope of their overall mission. At the conclusion of each month, we then donate a portion of our revenue to support these organizations. There are people in our communities that are in great need and while we might not know how to find them, these organizations do. These donations are only possible because of the insurance customers we are able to serve.
OCTOBER/NOVEMBER 2020 NON PROFIT PARTNER 
Warrior 110, Franklin, IN 
Warrior 110 is an organization started by two veterans, Brian Alvey and Adam Smith, who's

primary mission is to continue to raise awareness to the issues that many combat veterans suffer from with respect to to Post Traumatic Stress (PTS), Traumatic Brain Injury (TBI), chronic pain, and the suicide epidemic that continues to claim 22 combat veterans a day.
Each Year, they conduct a 110 mile march beginning in New Albany, IN and ending in Franklin, IN. Additionally, their secondary mission for this year is to raise as much funds as possible to be able to send combat veterans in need (and their spouses) to the amazing therapeutic programs for Special Operation Warriors, active duty, reserve, veterans created and ran by the
Brian Bill Foundation
. Their therapeutic programs targeting combat PTSD, mTBI and chronic pain issues cutting edge therapeutic support such as Equine Assisted Learning, Accelerated Resolution Therapy (ARTherapy), Yoga, Breathing, Meditation, Nutrition, iRest and Couples & Team Building.
AUGUST/SEPTEMBER 2020 NON PROFIT PARTNER 
Johnson County Senior Services, Whiteland, Indiana
Johnson County Senior Services is a non-for-profit organization whose mission is to provide free, essential services that will enhance the quality of life for older adults by helping older adults live with dignity, maintain their independence, remain at home as long as possible and avoid or lessen isolation and loneliness.
They help provide necessary items and services such as Durable Medical Equipment, a food pantry, and transportation services for senior citizens.
For more information, please visit: www.jcseniorservices.org
JUNE/JULY  2020 NON PROFIT PARTNER 
Indiana Concerns of Police Survivors, Indianapolis, Indiana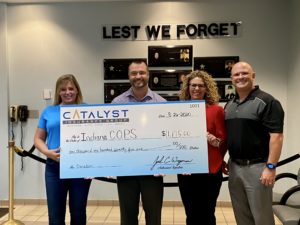 Indiana Concerns of Police Survivors is a non-profit organization, which provides resources to assist in the rebuilding of the lives of surviving families of law enforcement officers killed in the line-of-duty as determined by Federal criteria.  Indiana C.O.P.S. serves all of Indiana in providing emotional and financial support as well as legal assistance to survivors of fallen officers.
In the event of a line of duty death, the agency notifies the family and then C.O.P.S. for immediate response and continuous support. C.O.P.S. is committed to providing exceptional services to surviving family, affected co-workers, and the community.
C.O.P.S. programs for survivors include the National Police Survivors' Conference held each May during National Police Week, scholarships, peer-support at the national, state, and local levels, "C.O.P.S. Kids" counseling reimbursement program, the "C.O.P.S. Kids" Summer Camp, "C.O.P.S. Teens" Outward Bound Adventure for young adults, special retreats for spouses, parents, siblings, adult children, extended family, and co-workers, trial and parole support, and other assistance programs.
Ƒor more information, please go to: https://incops.org/ or https://www.concernsofpolicesurvivors.org/aboutcops
APRIL/MAY  2020 NON PROFIT PARTNER 
Tear Down The Walls Ministry, Indianapolis, Indiana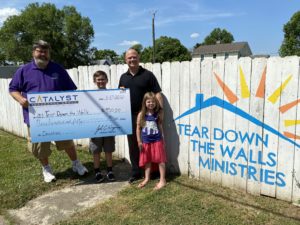 For over 15 years, TDWM has served the Indianapolis community by loving and trying to better the lives of those in the inner city. Now, more than ever, there is a tremendous need for this kind of service in urban areas.
Tear Down the Walls is dedicated to outreach to the homeless of Indianapolis, including Case Management (counseling our friends, encouraging goals, helping our friends to find housing, employment training, medical care, clothing, etc…), our Lunch and Bible Study ministry, our homeless street outreach program and remodeling abandoned buildings to be used as housing. Our outreach to the youth includes student leadership programs, after school programs, summer camp, VBS (Vacation Bible School), youth service projects, student Mission Trips,  internships, and youth focused block parties and events.
For more information, please go to: https://www.tdwm.org/
SPECIAL PANDEMIC RELIEF
The Impact Center at Mount Pleasant Christian Church, Greenwood, IN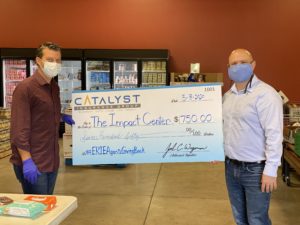 The IMPACT Center is a ministry of Mount Pleasant Christian Church. Their food pantry has been instrumental in helping feed the at-risk community during the pandemic. We wanted to assist their mission and made an additional contribution to their efforts above and beyond our normal planned monthly giving. Special thanks and recognition goes to Erie Insurance for the partnership in our relief efforts.
Special Thank You to White River Township Fire Department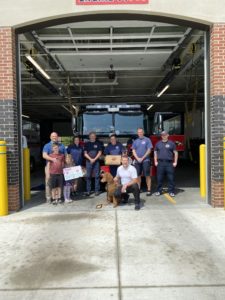 To keep people safe during the pandemic, most employers instructed their employee to stay and work from home. Our first responders don't get that option so to say thank you, we took all 4 locations of the White River Township Fire Department pizza from Pizza King Station on Bluff Rd. It was a small token of our appreciation for what they do to serve our great community.
FEBRUARY/MARCH  2020 NON PROFIT PARTNER 
Helping Veterans and Families of Indiana (HVAF), Indianapolis, Indiana
Helping Veterans and Families, more commonly known as HVAF, is an organization that is working to end homelessness among veterans. Through a unique partnership with U.S. Department of Veteran's Affairs and many community organizations, they provide housing and re-integration services for homeless veterans and programs to prevent at-risk veterans from becoming homeless.
HVAF operates 13 distinct housing properties across Indianapolis. They also have employment specialist who help veterans obtain employment. They offer a food and necessities pantry that helps provide clothing, hygiene products, and food items as well as engage in activities to raise awareness to the needs of veterans.
Their outreach services touch over 200 homeless veterans a week. They also launched Supportive Services for Veteran Families designed to help families reach stability through case management and financial assistance.
For more information, please go to www.hvaf.org
DECEMBER/JANUARY 2020 NON PROFIT PARTNER 
Hope Center Indy, Indianapolis, Indiana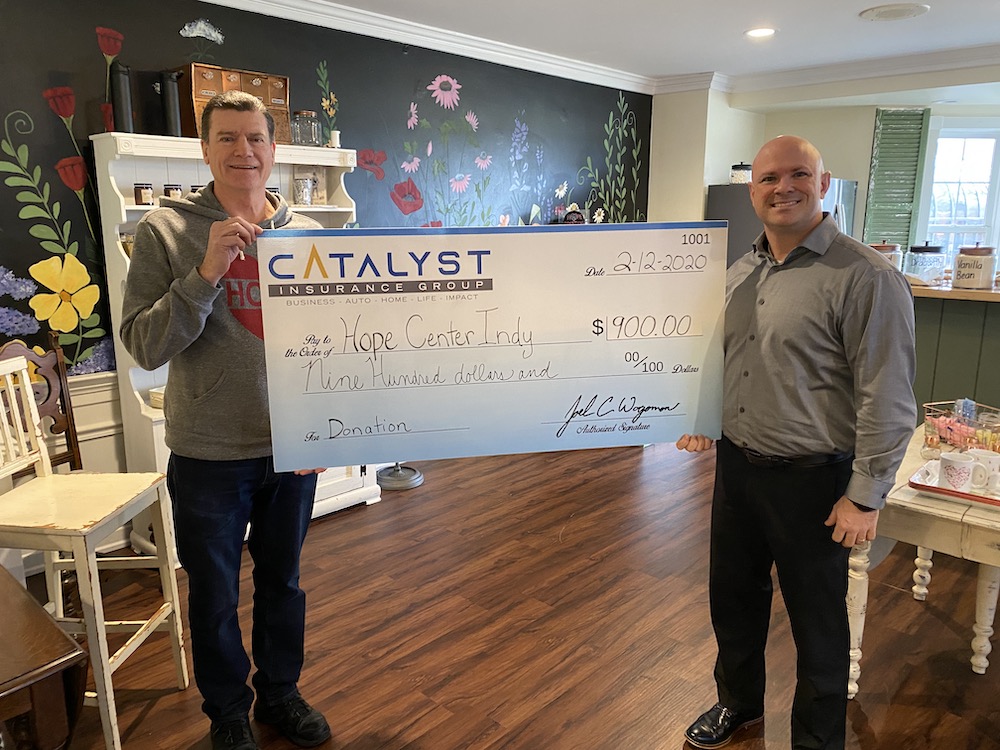 The Hope Center Indy is a 25 acre campus committed to healing the lives of women 18-30 coming out of Human Trafficking.
Their mission is to transform the lives of women exiting sex trafficking by providing a Christ-centered approach to healing, self-sufficiency, and reintegration into the community.
The Hope Center provides education, food, shelter, and mental health services to women who have come out of human trafficking.

Hope Center's mission is to be a Christ-centered program to help develop the personal and professional life of women who have been rescued from human trafficking

Hope Center utilizes a network of resources including a 25 acre campus. They offer an abundance of professionals and volunteers to help equip rescued women with the tools to succeed in life after the traumatic experience of human trafficking. in order for them to re-enter society with the confidence, health, and technical skills needed to succeed.
For more information, Please go to www.hopecenterindy.org
OCTOBER/NOVEMBER 2019 NON-PROFIT PARTNER
DAMAR Services, Indianapolis, Indiana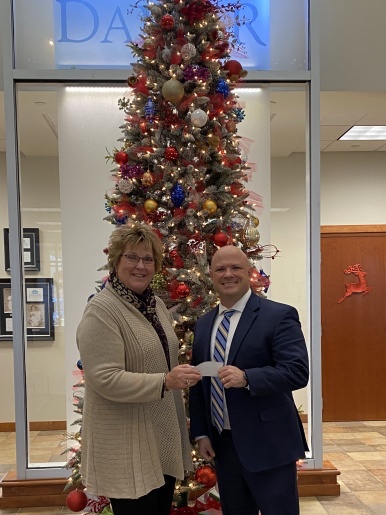 Started by two parents wanting the best for their own children with disabilities, Damar had a narrow focus: Care for children with a specific set of needs. Over time, however, Damar's approaches and expertise proved helpful to a much broader group of people. So Damar innovated, adapted and expanded its vision.
Today, Damar Services sets itself apart by delivering remarkable care and remarkable results for remarkable people of all ages and with a wide range of needs. Throughout the last 50 years, Damar never lost sight of one fact: developmental and behavioral disabilities never affect just one person … they affect entire families.
And so, even as it has become a national leader among organizations serving children and adults with developmental and behavioral disabilities, Damar continues its commitment to serving both its clients and the families and caregivers who surround them.
For More Information, Go To: http://www.damar.org
AUGUST/SEPTEMBER 2019 NON-PROFIT PARTNER
The IMPACT Center, Greenwood, Indiana
The IMPACT Center is a ministry of Mount Pleasant Christian Church and is an outreach ministry to the people of Central Indiana. The IMPACT Center assists 400 families a month by providing food, clothing, and physical needs, while keeping the love of Jesus in the center of it all. Their mission is to provide for those in need, while pointing them to the life-saving truth of the gospel.
For More Information, Go to: https://www.mpcc.info/need-help/impact-center/